The first of the two charitable organisations we are fundraising for is our local Parish of Capel and Ockley. https://www.capelandockleychurch.org.uk
We are part of the Surrey Weald Team of parishes close to the south Surrey border with West Sussex. The other parishes in the team are St Peter's, Newdigate, and St Mary Magdelene, South Holmwood. Our church offers a variety of worship, both separate and as part of the Weald Team.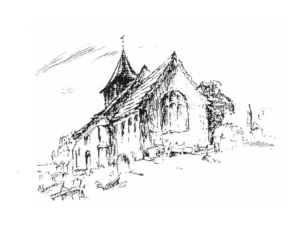 We are a two small friendly village churches joined in one parish. The churches remain rural, but are located in the busy commuter belt south of London.
In addition, the building offers a place for quiet contemplation, meetings, and sanctuary away from our busy lives, as it has done for many generations beforehand.
But historic buildings such as our beautiful churches take a lot to maintain. We have currently been raising money for the wall that surrounds the churchyard in Capel. We have recently (February 2020) reached our target for the North wall and will now need to begin raising money for the East wall. But the shortfalls won't stop there. Heating, lighting and keeping ancient buildings watertight from the elements are an on-going battle but one we must keep fighting to ensure the future is safe for these beautiful and historic buildings that are an inherent part of our villages, whether or not you worship there.
The second of our chosen charities is The Motor Neurone Disease Association https://www.mndassociation.org/
The Motor Neurone Disease Association is the only national charity in England, Wales and Northern Ireland focused on improving access to care, research and campaigning for those people living with or affected by MND.

We are a membership organisation with over 9,000 members forming a powerful national and local network that provides information and support.
We have over 7,000 active volunteers in England, Wales and Northern Ireland and around 170 paid staff, all dedicated to improving the lives of people affected by MND, now and in the future.
One of the organisers of the Capel Christmas Fair, Suzanne Cole lost her father to MND in October 2015 having been diagnosed in February 2014. Sadly no-one who is diagnosed is expected to live more than 5 years.

Suzanne's family were put in touch with the MNDA immediately after her father's diagnosis and they were the main provider of information, a helpline for patients and their relatives and the ability to put you in touch with a local network of people if you wanted to join them. Without MNDA, there would be very little information or support for families facing life with MND.
We are delighted to have the local South East regional branch involved with the Fair and they will be running a stall selling christmas cards etc. which help to raise funds for MNDA.
MNDA is quite simply a lifeline for those diagnosed with Motor Neurone Disease and vital support for their families.